From October MYSTERIOUS JOKER is finally animation Start broadcast in TOKYO MX & kids station! Small peach sound mai to dominate as "professional solo idol" in the group idol height of prosperity in the ending music…It is belonging to "mainya" of nickname and sings at no, this time. 3 sisters idols (as for the actual situation who appears to 11 MYSTERIOUS JOKER books in chorus…Read 11 volumes!) , shuffle sisters! Shuffle sisters chose three junior high student teams from popular idol group of Nagoya "DIANNA ☆ SWEET" this time and had you play the part.
CD Jacquet draws; illustration!
mainyano carrier history when coupling music (in the name of small peach sound mai as for this) colors memory of the fifth anniversary of the activity, super hyper electric wave dance tune of earliest Bpm=180. Upsurge inevitable deuryaoi OK!
mainya with shuffle sisters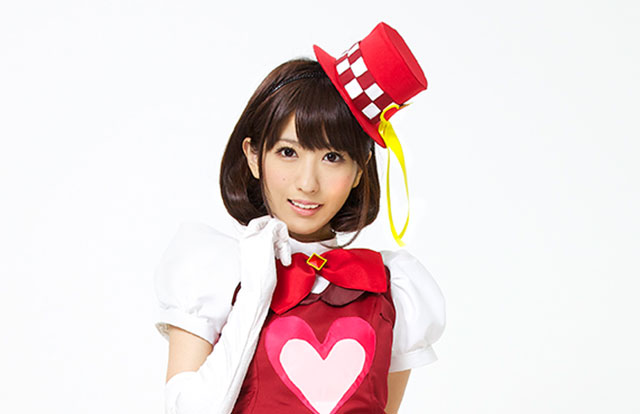 In 2009, girl whom idol loves leaves Kobe for Tokyo alone; as "small peach sound wind up" (will not sleep) popular name "mainya" is start by live activity. We reach number of 300 a year, and live with unique movement called migration of nations system becomes famous in an instant in live neighborhood. Being sold out appeared one after another in spite of being release from indie label, and work came to be ranked Oricon chart at first.
On May 10, 2013, she always established without permission; of "kotone on May 10 Sunday" is authorization formally what by association on Japanese memorial day. We announce that measure makes its debut by event carried out from Victor VERSIONMUSIC on the same day. Debut major in August 14, the same year "BANG BANG drums and fifes samba." In the group idol height of prosperity, we record the Oricon daily chart top eighth place, the weekly chart top 20th place. We release second single "Dancin' ☆ high school" on February 26 in the next year.
We continue active Live activity, and "best Live" "Live to remember" includes the name from many audiences by large-scale idol event that we participated in now.