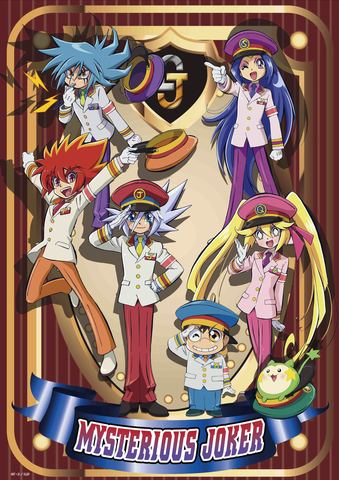 Shop for a limited time is open "MYSTERIOUS JOKER mini-shop street wagon shop" in character street of Tokyo Station until from Tuesday, August 1 to Thursday, August 17!
Is new; draw, and goods using illustration are varied, too☆

<MYSTERIOUS JOKER mini-shop street wagon shop>

Holding place: Tokyo Station Yaesu north exit basement the first floor (Tokyo Station first Avenue north street under the ground on the first floor)
Period: 2017/8/1 Tuesday - 2017/8/17 Thursday
Business hours: From 10:00 to half past 20 (on the last day until 18:00)

[event-limited new product lineup]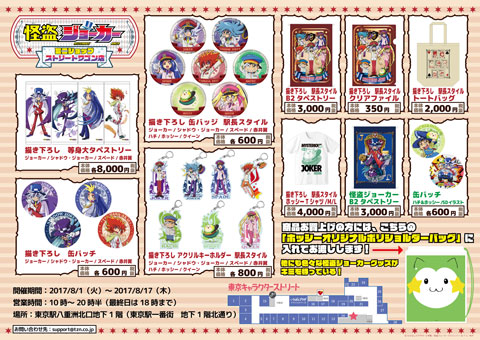 ■Draw; can batch stationmaster-style (Φ 75mm) 600+ yen tax
■Draw; acrylic key ring stationmaster-style (approximately 90mm) 800+ yen tax
■Draw; stationmaster-style B2 tapestry (515*728mm) 3,000+ yen tax
■Draw; stationmaster-style clear file (210*297mm) 350+ yen tax
■Draw; stationmaster-style tote bag (H37 X W36 X D11cm) 2,000+ yen tax
■Draw; stationmaster sutairuhosshi T-shirt (M/L size) 4,000+ yen tax
■Draw; life-sized tapestry (50*160cm) 8,000+ yen tax
■Draw; can batch (Φ 75mm) 600+ yen tax
■Canned MYSTERIOUS JOKER batch 600+ yen tax
■MYSTERIOUS JOKER B2 tapestry (515*728mm) 3,000+ yen tax
It releases other products!
Let's swell with joker this summer!
We wait for visit of all of you♪
[instructions of entrance]
・Please confirm wait place of the day in the field.
・You cannot have to wait through the night.
・We should forbid interrupt and leaving junction, row on the way in principle.
・I would like cooperation to obey instructions of the staff.
・By the congestion situation, it may come to support rearranging ticket.
・There is possibility to change administration method by the situation.
[other instructions]
・Goods exchange, transfer in the neighborhood of meeting place inside and outside and meeting place of neighborhood shop and facilities user
As I come to trouble, you are not expected.
・We cannot bear all responsibility about visitor trouble and accident, theft in sales floor.
・Cash register accounts become only cash.
・The number of products includes limit. Thank you for your understanding.
Inquiry is this
↓↓↓
support@tzn.co.jp