TOKYO MX seeing and hearing guide
---
We broadcast terrestrial digital broadcast of TOKYO MX with 16 channels from the Tokyo Skytree.
Remote-control ID is 9ch.
Remote-control key ID
Station name
Physical channel
1
NHK synthesis
27
2
NHK education
26
4
Nippon Television
25
5
TV Asahi
24
6
TBS
22
7
TV Tokyo
23
8
Fuji TV
21
9
TOKYO MX
16

(the Skytree)
Multichannel program
TOKYO MX starts multichannel program in July, 2006, and "TOKYO MX1(091ch)" can watch two channels of "TOKYO MX2(092ch)" for 24 hours from April, 2014.
※You cannot watch by digital-analogue clock conversion.
Method to look at TOKYO MX2(092)
Please choose 9ch with remote control of terrestrial digital program-adaptive TV.
You can look at TOKYO MX2(092) afterwards when you push "+" (plus) or "▲・▼" of button to select once.
In addition, you can look at even that you input "092" and number key directly. Furthermore, you can look at even that you choose program of TOKYO MX2 among program of terrestrial digital broadcast of TV.
As for multichannel, the details about TOKYO MX2(092ch), please see multichannel seeing and hearing method.
Indication of terrestrial digital broadcast reception area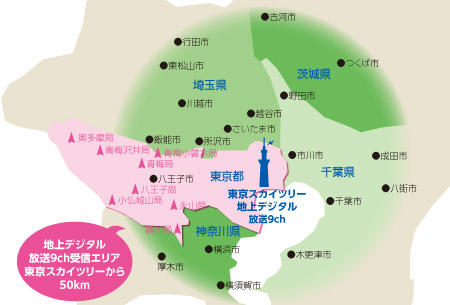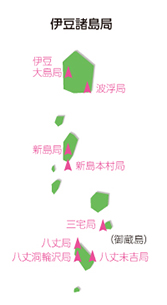 ●We may not watch depending on the situation of electric wave propagation even if we meet in area.
●Whole Tokyo and Saitama, Chiba, Kanagawa, approximately 15 million households (as of August, 2017) of a part of Ibaraki apply. (we can watch Tochigi, Gunma, Yamanashi, a part of Shizuoka by cable TV, too).
●We install telephone exchange in western part (Tama, Hachioji, Ome, Okutama) of Tokyo and island sho area (Izu Islands) and cover.
●We cover Ogasawara Islands with cable TV.