One segment seeing and hearing guide
---
To see "TOKYO MX" with cell-phone and one segment tuner for one segment?
Each local channel information is registered with one segment beforehand. When you see TOKYO MX, please perform channel setting by manual operation (manual) by all means. Reception area, please choose "Tokyo". "TOKYO MX" is registered with 9 channels when we push decision or channel setting to pre-set after having chosen reception area.
Channel to pre-set of one segment "Tokyo" area
Channel Station name
1 NHK synthesis
2 NHK education
4 Nippon Television
5 TV Asahi
Channel Station name
6 TBS
7 TV Tokyo
8 Fuji TV
9 TOKYO MX
※"TOKYO MX" may not be performed channel setting of by the reception situation when we overwhelm automatic channel setting to search channel which we can receive in automatic (auto).
※As assembly operation of channel setting may vary according to makers, please see manual of cell-phone and tuner in detail.
"One segment 2 service"
We cut 1 segment using for one segment into pieces and are service that can watch two separate programs. In us, we broadcast "multichannel formation" to distribute by digital television broadcasting in TOKYO MX1(091) and TOKYO MX2(092), and to broadcast. It is "one segment 2 service" "even one segment" chooses program of this "TOKYO MX1" and "TOKYO MX2" each, and to be able to watch. In addition, you can enjoy this service by chisel 2 service out of multichannel program. In the case of hi-vision broadcast, it becomes one segment service only for 1 channel.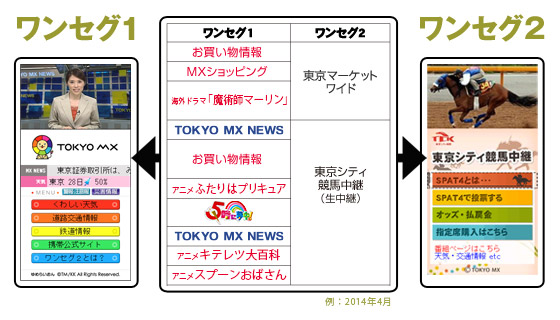 "Q&A about one segment 2 service"