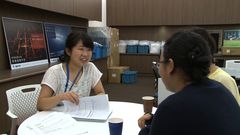 Students applying for night school of university from economic reason increase now.
It is approximately 2.6 times when we compare 2012 and this spring in most Toyo University of night school student in Japan.
It is system called "independent self-support support" we receive such a scenery, and to have introduced into night school.
Half of school expenses is paid as scholarship, and student who used can cover the remainder with salary that worked.
Student who has thought to experience earthquake disaster, and to want to reduce burden on parent and thought that we want to study to let hometown activate in the future,
We ate joy and enthusiasm when able to go to university because there was this system.