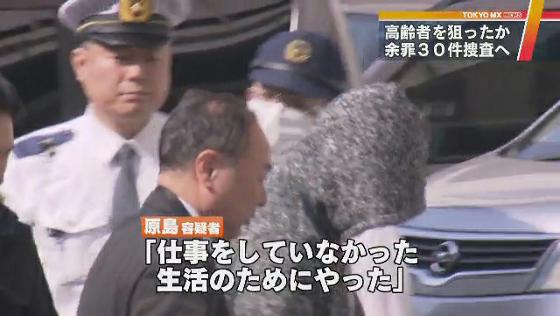 To elderly person aim snatching or the extra crime investigation
(area waits - April 14, 2018 18:30)
 Man of Tokyo, Hino-shi was arrested for motorcycle saying that we overtook and snatched bag of elderly person in state. It is considered that extra crime of man comes up in approximately 30 cases.

 It is unemployment of Nanpei, Hino-shi, Suspect Teruki Harashima (37) to have been arrested on the suspicion of theft. Suspect Harashima approaches 71-year-old man who rode bicycle in Dennenchofu, Ota-ku in last month by motorcycle from behind, and doubt that snatched bag which overtakes, and entered the former basket of bicycle in state is held. Cash approximately 40,000 yen entered bag.

 For tune of Metropolitan Police Department "did not work. We accept the charge saying we did it for life. In the Metropolitan Police Department, Suspect Harashima aims at elderly person in Kanagawa and Saitama including Ota-ku and Hachioji-shi from last June and we consider snatching to have been repeated and check 30 cases.