Tell! Application teacher
Airdate

Every other week Thursday from 25:40 to 26:10

Broadcast was finished.
Program introduction

School to be able to learn stage setting about smartphone application.
Performers learn lecture and practical skill "great application messenger" if possible. Application expert introduces various application that the world is filled with in class form every week! We liken to school life as well as class in the future including homeroom and club activities and take up application smartphone information! Don't miss it!
The cast staff

[casts] Mari Yaguchi, rubber girl, ayaman JAPAN
Program which we are broadcasting now

From 27:10 to 27:40

From 27:00 to 27:30
Recommended program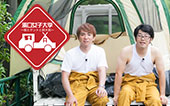 Sunday
From 24:30 to 25:00