We will have beautiful married woman of Ijiri Kasuga

Airdate

Wednesday from 24:00 to 24:30

Broadcast was finished.
Broadcast information
Program introduction

While there is not husband, Ijiri Okada and Audrey Kasuga check (secret) action of wives!
Toshiaki Kasuga of Audrey who shows achievement as athlete with Ijiri Okada with reputation in MC of sex appeal program.
We broadcast, and sexy variety that unique combination develops starts!
Kasuga and Ijiri declaring great mature woman enthusiast openly uncover secret of unknown beautiful woman wife!
The cast staff

Ijiri Okada
Toshiaki Kasuga (Audrey)
Program which we are broadcasting now

From 21:00 to 21:54

From 21:00 to 21:30
MX shopping
Recommended program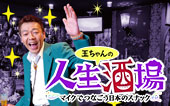 Thursday
From 25:00 to 25:05