Strange real escape game of NON STYLE Inoue





Airdate

Saturday, December 9, 2017 from 20:05 to 20:10 special program broadcast!

Broadcast was finished.
Program introduction

We press charm of audiences and "real escape game"!
Performance sold out has one that much "rial escape games" have played rediscover charm some other time, and which we have not played, please look at this opportunity whether "rial escape game" is on earth what kind of thing.
We send with extra edition of performance that performed "JoJo's Bizarre Adventure" and collaboration this time!

Real escape game X JoJo's Bizarre Adventure "escape from strange hall of jojo"
Formal HP: http://realdgame.jp/jojo3/
The cast staff

NON STYLE Inoue
Dennis Ueno
Master yunibasu Kawase
Program which we are broadcasting now

From 26:30 to 27:00
MX shopping

From 26:30 to 27:00
Recommended program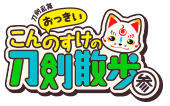 Under BD, DVD favorable reception release!
Access ranking