Kimidake TV

Airdate

Monday from 28:00 to 28:30

Broadcast was finished.
Program introduction

"Kimidake TV" which draws individual charm of idol
New idol variety program more than fences of group finding charm of idol full of individuality in this only as for me only as for you.

Program Twitter: https://twitter.com/kimidakeTV
The cast staff

[MC] Arco & peace
[casts] i ☆Ris, X21, sammyu - others
Program which we are broadcasting now

From 28:00 to 28:30
MUSIC B.B.

From 28:00 to 29:00
Recommended program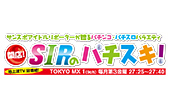 Friday
From 27:10 to 27:40
※First Friday is excluded