mitsukete. TV

Airdate

[MX2] Tuesday from 23:45 to 24:00

Broadcast was finished.
Program introduction

Various funny cases, human being dramas become full to them who dream of big stage sometime, and continue being active mainly on live houses every day every day. Reporter "MiSTELLY♡" collects data on such "live idol news" by this program originally! We announce in ranking form! We invite guest idol, and colossal intellect "Terry Ito" takes drastic measures every week! Variety show program, it specialized in idol first time human history under the ground "mitsukete is TV"! We have more people know "live idol" through this program and are happy if we make a help that "mitsukete" can have favorite idol on.
The cast staff

MC: Terry Ito
Program exclusive belonging reporter: MiSTELLY♡
Program which we are broadcasting now

From 21:00 to 21:54

From 21:00 to 21:30
MX shopping
Recommended program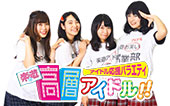 Every month first Friday
From 27:10 to 27:40