Even we of Takuya Eguchi want to be healed more!

Airdate

Every other week Wednesday from 23:00 to 23:30

Broadcast was finished.
Broadcast information
Program introduction

"Even we of Takuya Eguchi who were broadcasted until from January, 2016 to March want to be healed!"
Broadcast of no two quarters is decided.
"Healing" On o theme Koutaro Nishiyama of voice actor, Takuya Eguchi and assistant,
It is healed with luxurious guest "more" at various places.
The cast staff

[casts] Takuya Eguchi
Assistant: Kotaro Nishiyama
The narration: Soma Sato

Program which we are broadcasting now

From 22:00 to 22:29

From 22:00 to 23:00
WORLD MARKETZ
Recommended program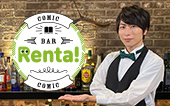 Wednesday
From 25:00 to 25:05