(c)YOMIURI TELECASTING CORPORATION
Ruppie X burappi

Airdate

Tuesday from 23:30 to 23:45 (TOKYO MX2)

Broadcast was finished.
Program introduction

We lost the world of information network from wonderland and were crowded
burappi loves to be interesting with ruppie.
Find thing and thing becoming topic now,
It is easy to know what the world is interested in,
We make entertainment and introduce!

<program site>
http://www.ytv.co.jp/rappiwappi/
The cast staff

<casts of voice>
Ruppie: Tsuda Minami
burappi: ? ? ? ? ? ? ? ?
Program which we are broadcasting now

From 21:00 to 21:54

From 21:00 to 21:30
MX shopping
Recommended program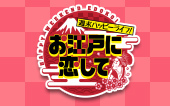 Saturday
From 11:00 to 11:55